Update: I was so thrilled as I wrote this post about WP Engine that I decided to try it out. I am in love!
Too see a WP Engine website live and in Color take a look at Site 1 and Site 2 of the 6 I purchased!!!
Here is Site 3. I love the fact that for each 6 of my new websites I have decided to have different and distinct super themes that all fit the purpose and feel of the subject matter. HARD TO FIND!!!
They have 35 Super fast and super intense Genesis Themes that come free with your purchase.
WP Engine WordPress Hosting Review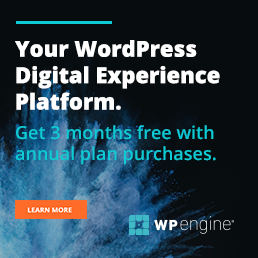 WP Engine is the get down and get your hands dirty approach to WordPress Hosting. I have been very impressed and awwwed when doing this WP Engine WordPress Hosting Review. WP Engine separates itself from some of the competition because it is a comprehensive and deep way for small, medium, and large businesses to capture the web. Yet for individuals who are Internet marketers and bloggers WP Engine is also a great choice.
WP Engine WordPress hosting allows you to build your company website, small, medium, or large business website, charity or your personal home business website with all the bells and whistles. When it comes to bells and whistles of website hosting. We are talking not just about the steak. But give me some mash potatoes and green beans on the side. WP Engine adds some hot sauce to your meal with it 's tech savvy pushing website speed, wordpress site security protection, Martech applications, SEO enhancements and more.
WP Engine is serious about business and they are personal about your business. They are a trusted source for website hosting boasting 5% of online interactions go through Wp Engine properties. With the billions of transactions that go on each day on the web that is an impressive number.
They are offering you 20% off your monthly or yearly package with WP Engine. To try WP Engine Click Here . Most plans start at $35 and go up to as much as $290 a month. I will go into more detail about that later.
What is WP Engine?
WP Engine is a web hosting powerhouse started in 2010 . I found it pretty interesting that they are located in Austin, Tx. Not quite the place you would expect to find a tech company. But I will look more into that. I have a feeling that Texas is doing more of that these days because of the great business climate there.
According to Tech Crunch WP Engine is valued at over $400,000,000 in that short time . Making about 100 Million dollars in revenue every year. That is some serious website hosting if you ask me. As I looked through there About page on their website I was very impressed on what they value as a company and their accomplishments.
All things considered from both outside sources like Tech Crunch, WP Engine 's market success , and their market share. They are doing a great job in serving their customers and providing solutions that make a difference in the marketplace.
What does WP Engine Do?
The awesome success of WP Engine can be linked to the fact that they do not just host websites on WordPress. But they specialize in the nuts in bolts of the hosting business. Making sure that the the page loading speeds are lighting fast, the website security is tight, and the customer support is expert.
What you get with WP Engine is really impressive. You are not just getting a web hosting company. You are getting business infrastructure that deep dives into all of the things that make a website successful. WP Engine integrates top technology partners such as Google , New Relic, and AWS. So the website owner can focus on the business while WP Engine handles the back end things that give you the edge you need. It is truly impressive what they have built.